8 Resources for Nonprofit Professionals
Data can feel cold and detached—but it's actually the key to developing more meaningful relationships. In today's day and age, being data-savvy means being thoughtful, informed, and relevant. Here are 8 resources for nonprofit professionals to use to grow their organizations.
However, it's not always clear how best to inject data-driven decision making into your existing processes.
To help, we've compiled a list of some of our top data-minded resources. Peruse the collection below to ensure you're at the top of your game when it comes to leveraging the power of nonprofit data for good.
8 Free Resources for Data-Driven Nonprofit Strategy
The Guide to Meaningful Nonprofit Metrics
Get the must-track communications, development, and impact metrics you need in this tactical guide to help your organization achieve greater success. As a bonus, it's chock full of industry benchmarks, like click through rate and engagement rate to check yourself against.
The Quick Start Guide to Data-Driven Fundraising
Learn how you can extract the right data to inform experiments and growth tests at your nonprofit. This guide comes complete with six use cases to help inform your fundraising strategy and show how you can operate in a more data-minded way.
100 Donor Survey Questions
How well do you know your donors? Without asking the right questions, your organization may lack the information needed to build custom experiences and develop meaningful relationships with supporters. Use this list of 100 questions to build a survey that levels up your marketing efforts.
Why America Gives
We commissioned a nationwide survey to better understand why Americans give to nonprofits. Dig into the findings to discover what motivates people, what turns them off, and how technology affects giving habits.
Peer-to-Peer Fundraising Benchmarks Worksheet
Get this interactive PDF to see Classy's platform benchmarks as it relates to peer-to-peer fundraising, and compare your own results. See how you stack up when it comes to donation checkout form conversion rate, average amount raised by peer-to-peer fundraisers, and more.
The State of Modern Philanthropy 2018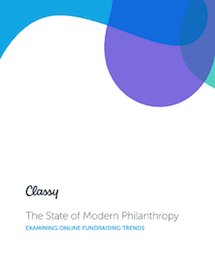 Did you know recurring donors are 42 percent more valuable than fundraisers, and a whopping 440 percent more valuable than one-time donors? Our annual report dissects millions of data points to reveal insights around recurring giving, mobile and desktop trends, Giving Tuesday, and more.
The Guide to Annual Reports for Nonprofit Organizations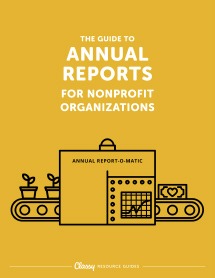 Learn how to create a simple, yet powerful, annual report that engages your supporters and conveys the scope of your impact.  To help, we've included examples of best-in-class modern annual reports to draw inspiration from.
The Annual Report Checklist
Use this fully interactive checklist to quickly understand what content and data you need to collect in order to communicate your work and impact in your most effective annual report yet.